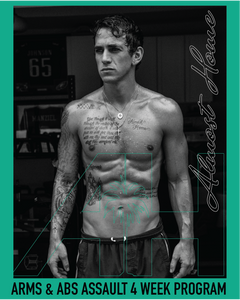 ARMS & ABS ASSAULT 4 WEEK PROGRAM
THIS PROGRAM WAS DESIGNED BY ALEX FINE FOR CLIENTS TO BUILD MUSCLE AND TIGHTEN THEIR CORE WHILE TARGETING THEIR ARMS AND ABS.
4 days for 4 weeks this program will help build stronger arms and a tighter core. We kept the program 4 days a week so you have 3 days to target other muscle groups, get in some cardio, and recover. 
This program is full of arm and ab specific circuits that will have you sweating. The circuits and reps are going to be hard but if you push through and focus on completing each day we promise by the end of the program you'll feel stronger and be pushing through with ease.
It is recommended to do the entire days exercises without resting, but you know your body better than we do so if your body is telling you to rest grab a quick drink of water and a breath and get back at it.  
Join the Almost Home Family By Posting Your Workouts and Progress Pictures and Be Sure To Tag @ALMOSTHOME #ALMOSTHOME #AHARMSANDABS
Once you check out you will receive an email with a link to download the full program. If you don't receive within an hour or have issues downloading please shoot us an email at support@almostho.me and the team will be happy to assist!
*Equipment Required