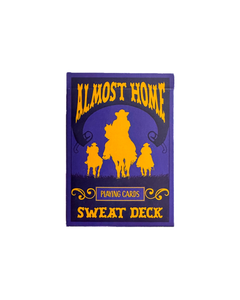 SWEAT DECK CARDS AND PROGRAM
THIS SWEAT DECK PROGRAM WAS DESIGNED BY ALEX FINE TO GIVE YOU A QUICK AT HOME OR ON THE GO FULL BODY WORKOUT UTILIZING THE ALMOST HOME DECK OF CARDS.
This Deck of Cards Program is designed for people who need a quick and efficient workout at home requiring NO Equipment and NO Gym. The Program is great for a solo challenge, and a great way to inspire a little competition with a partner. Bring the cards to the living room, the gym, the beach or wherever you go to keep you moving and working out. 
Join the Almost Home Family by posting your workouts and progress pictures and be sure to tag @almosthome with the hashtags #AlmostHome and #SweatDeck
Once you check out you will receive an email with a link to download the program. If you don't receive within an hour or have issues downloading please shoot us an email at support@almostho.me and the team will be happy to assist! The AH Deck of Cards will be shipped separately.
*Almost Home Deck of Cards Required.