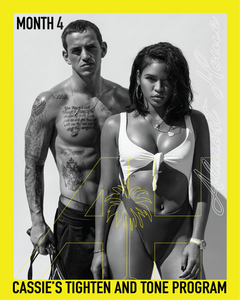 CASSIE'S TIGHTEN AND TONE FULL YEAR | MONTH 4
THIS PROGRAM WAS DESIGNED BY ALEX FINE FOR HIS WIFE AND NEW MOM CASSIE VENTURA FINE.
After Cassie gave birth to their daughter Frankie in December, she was eager to get back in the gym after the Doctor's approval. This is a month long program not only for new Moms, but for women (and even men) alike trying to lose fat in those stubborn areas and tone and tighten abs, glutes, and arms.

Almost Home believes that Moms and Women are the strongest and toughest people on the planet so we want to give you a tough and capable program to get your body and mind healthy and happy.
This program is meant to push you and guide you through this new stage in your life and encourage a community of women to bond together through wellness. "Iron sharpens Iron as Women sharpen Women".

Join the Almost Home Family By Posting Your Workouts and Progress Pictures and Be Sure To Tag @ALMOSTHOME and @CASSIE with the hashtags #ALMOSTHOMEWOMAN and #CASSIESTNT
Once you check out you will receive an email with a link to download month 4 of the program. If you purchase the full year, you will receive an email with all available months and each month thereafter with that month's program. If you don't receive within an hour or have issues downloading please shoot us an email at support@almostho.me and the team will be happy to assist!
*Light Weights/ Kettlebells Recommended But Not Required.