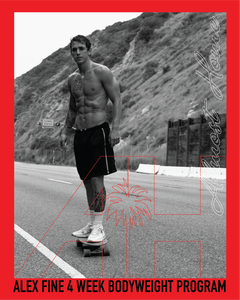 4 WEEK BODYWEIGHT PROGRAM
THIS PROGRAM WAS DESIGNED BY ALEX FINE FOR CLIENTS TO BUILD MUSCLE, TRIM FAT, AND FOCUS ON FORM WHENEVER HIS CLIENTS CAN'T GET TO THE GYM USING ONLY THEIR OWN BODYWEIGHT. 
1 month is all you need to build muscle, burn fat, and improve your posture and form  by engaging your body's own weight. Completing bodyweight exercises through a full range of motion is a great way to ensure joints are moving freely, and reduce your chance of exercise-related injury.
Perfect for your at home workout this year. This program takes cues from classic farm and military style training forcing you to control your own bodyweight and your own range of motion. We designed this program for all levels of athletes from beginners to more advanced. Every workout in this program looks simple with no weights and no added equipment, but if you follow the program, push yourself and don't cheat, this 1 month program will have you sweating.
It is recommended to do the entire days exercises without resting, but you know your body better than we do so if your body is telling you to rest grab a quick drink of water and a breath and get back at it.  
Join the Almost Home Family By Posting Your Workouts and Progress Pictures and Be Sure To Tag @ALMOSTHOME #ALMOSTHOME #AHBODYWEIGHT
Once you check out you will receive an email with a link to download the full program. If you don't receive within an hour or have issues downloading please shoot us an email at support@almostho.me and the team will be happy to assist!
*No Equipment Required